One of the many things we love about having a new blog is that we can now introduce you to the wonderful folks who make The Painting Experience possible. Last week, Caroline McCartie sat down for an interview with senior Painting Experience facilitator Annie Rousseau. They talked about Annie's upcoming workshop at Ocean Resort in British Columbia, and about the potential of discovering our own creative expression.
Annie has been part of The Painting Experience for fifteen years. Prior to that, she already had years of facilitation experience, working in the disability field.
When you meet Annie, you're likely to be immediately aware of her warmth and humor. (Her laugh is contagious in the best of ways.) Spend just a bit more time with her, and you'll notice she also has powerful gifts of intuition and clear insight. We know those of you who have worked with Annie in the studio will agree!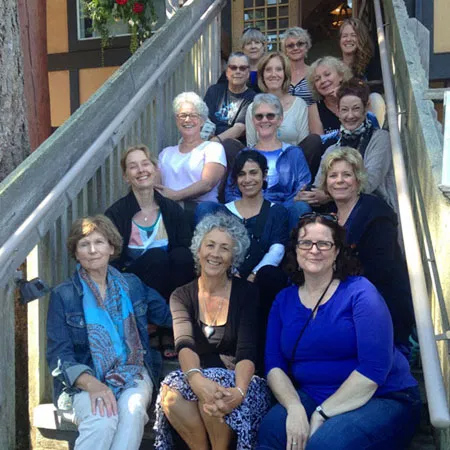 Annie is quick to acknowledge that it can be scary to enter a Painting Experience studio, especially if you're exploring process painting for the first time and aren't sure what to expect. But her focus is on the courage that comes to us when we're held in a space where it's safe to explore the unknown, and how we then very naturally take that courage with us out into the world.
As Annie says in this video, when she first came to The Painting Experience:
I didn't want someone else to tell me what my journey was. I didn't want to be following someone. I wanted to discover my own true path. And that's why this work is so passionate for me and for all of us at The Painting Experience: It creates a place for people to find their own unique path. We are creating a container . . . but it's you who does it. There's no better way than to discover your own way, and we're there to midwife that.
Annie's commitment is to help you grasp the potential of a creative life — whatever it is that you do:
We don't have to be artists, we don't have to have 'skills,' we just have to engage.
And here's Annie, fully engaging her new role as a grandmother: two babies and a third on the way! In this photo, she's holding little Owen . . .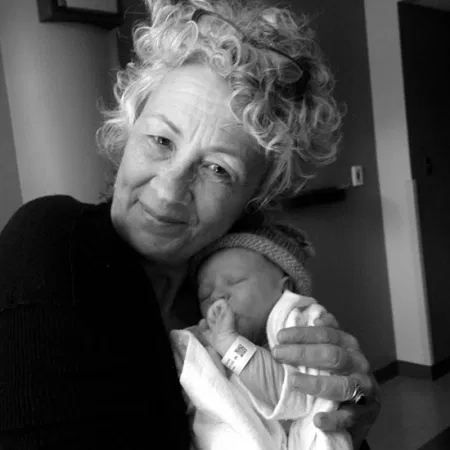 This is Annie's eighth year offering workshops at Ocean Resort, which is our sole location in Canada. For this workshop, Canadian residents get a substantial discount to balance out the difference in Canadian and U.S. dollars. Wherever you live, we're happy to answer any questions about the workshop or the easiest ways to get to this beautiful location for a summery week of painting for process and personal discovery. Here's the easiest way to contact us. 
If you'd like to learn more about Annie and her work, you can visit her website, Circle Tree Studios. To find out about all of our upcoming workshops, see our Programs page.