The Basic 20-color Paint Organizer includes 20—4 oz containers housed in a plastic storage bin. Workshop-style, hand-made birch plywood paint organizers include a set of 2 wood holders + 20 or 28—4 oz containers.
To fill your paint organizer, we suggest ordering Blick Premium Grade Tempera Paint at www.dickblick.com.
Suggested colors for the 20-color organizer:
14 ready-to-go colors: Red, Orange, Yellow, Yellow Green, Green, Blue, Violet, Magenta, Turquoise, Peach, White, Black, Brown, Burnt Sienna.
6 hand-mixed colors: Yellow Orange (yellow + tiny bit of orange), Red Violet (magenta + tiny bit violet, Bloodroot (red + tiny bit black), Pink (white + tiny bit magenta), Sky blue (white + tiny bit blue), Gray (white + tiny bit black).
Suggested colors for the 28-color organizer:
In addition to the 20 colors above, you can hand-mix additional colors or include metallic + fluorescent colors: Metallic Gold, Metallic Silver, Fluorescent Pink, Red, Orange, Yellow, Green, Blue.
Specialty Colors
See mixing instructions & recipes below.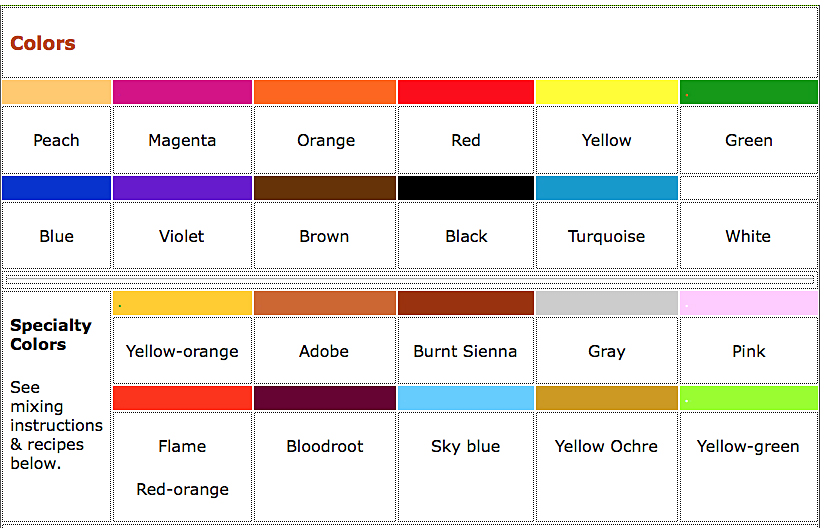 It's best to mix paints into a covered container or jar so you have enough to use for a while. Start with the lighter color and slowly add darker colors a bit at a time until you get the shade you desire. The parts refer to any unit of measure.
Yellow-Orange:

8 parts Yellow: 1 part Orange
Adobe: 3 yellow/1 orange/1/2 red/1/2 brown
Red-orange (Flame): 8 parts orange: 1 part Magenta
Bloodroot: 1 part red: 1/16 black
Yellow Ochre: 6 parts yellow: 1/2 brown: add a teeny bit of red

Yellow-green:

5 parts yellow: 1/2 part green
Pink,

Sky Blue

and

Gray:

Start with white, slowly add a tiny bit of: Magenta for Pink, Turquoise for Lt. Blue, Black for Gray.