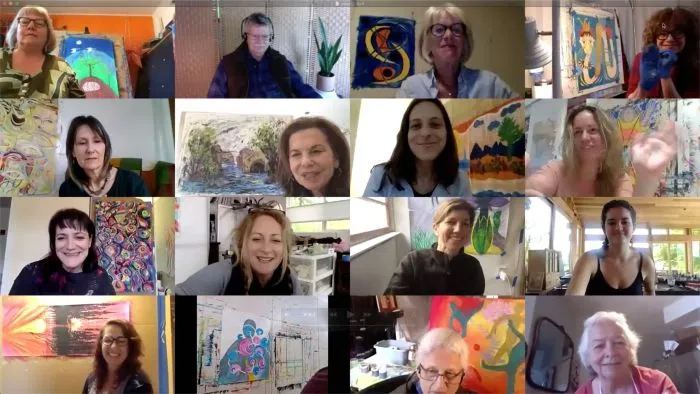 Stewart hosted his first fully online painting weekend earlier this month. How exciting to have people join from all over the world! Participants "arrived" from Argentina, Brazil, India, Switzerland, British Columbia, and across the United States. Even some wild time zone differences didn't stand in the way: Charlene, who signed in from India, painted though the depths of night and finished with the group at six in the morning!
As with in-person workshops, Stewart began each day with a talk. This time, he raised some questions: Is process painting about making art? Is it therapy? Is it a spiritual practice?
You probably won't be surprised to hear that this work touches all of the above but is defined by none. Stewart reminds us that Process Painting encourages you to go your own way rather than fit yourself into any outside structure.
We invite you to listen to his six-minute talk right here. (If you're getting this post by email and you can't see the audio player in the next paragraph, you'll need to click through to the website to listen or you can hear it on SoundCloud.)
The enthusiasm and commitment of this first group answered a question we had about working online: Could a group of painters feel deeply connected with the process and also with each other for a full weekend of gathering in a virtual space? Going by the laughter, the deep sharing, and the risk taking shared by these adventurers, we have to say the answer is yes.
A number of painters found that working online brings an unexpected benefit. Hearing Stewart coaching others helped many painters feel even closer to their own processes. As one noted, "I see myself in every other person and I was getting the value of every interaction."
Our next online painting weekend is coming up soon, on May 9 and 10. As before, we're limiting participation to 19 painters, so Stewart can see everyone onscreen. If you can't make it this time, the next weekend is scheduled for June 13-14 and is also open for registration now.
More Information
To see our complete schedule of online process painting offerings, including weekly classes and weekend workshops, visit our Online Painting page.
For encouragement setting up your own process painting space, see Getting Ready to Paint at Home.