Small Group Online Painting Sessions
Sign up early to insure a spot.
Questions related to working online?
Questions related to signing up?
(move your cursor to the side to assist in scrolling)
Proceeds of The Painting Experience are used to further the developing field of process arts
as well as provide assistance to those who need financial support to attend our classes, workshops and courses.
Stewart Cubley is on vacation until September.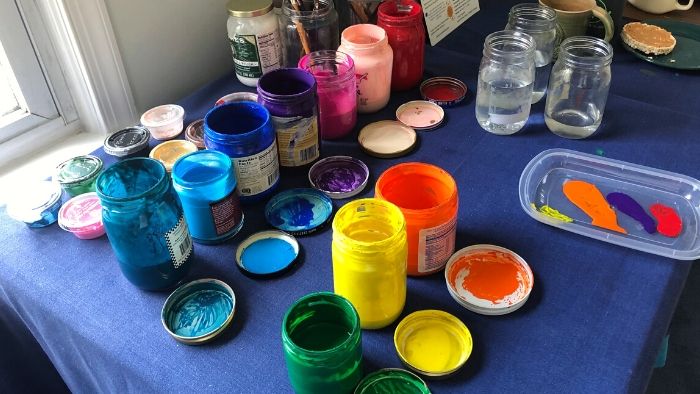 Use What You Have
If you've attended a Painting Experience workshop, you know the supplies we use are simple and always the same: same paints, same brushes, same paper. We do that to minimize distraction and keep the focus on deepening your practice. But there's no magic in the supplies we use; any materials will work just fine when used in the spirit of process.
To that end, we hope the following suggestions will help you put together the supplies you'll need for a home process art practice.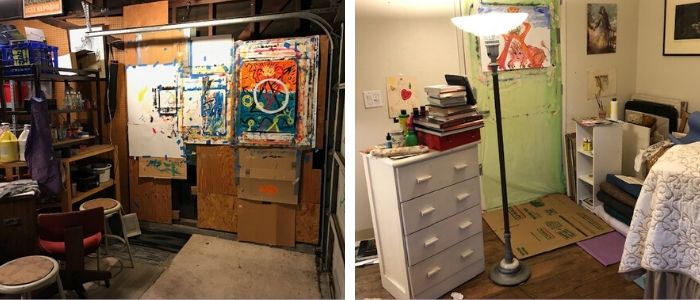 My photo is to inspire people who don't think they can! I'm in a studio apartment . . . iPad propped on books, dresser moved out from wall, tall light slid over from across the room. Love it! ~ Dyane
To join us from home, it's not even necessary to have paint. We do encourage you to work with color, but there are many options for that: colored markers, pens, crayons, pastels—or any kind of paint you have that you find easy to work with.
Likewise, you have many options for paper. Choose whatever will support your paint, markers, pens, or crayons. For a pallet, you can use something like the lid from a plastic tub; think big yogurt container. For a pallet knife, any plastic knife is a good substitute.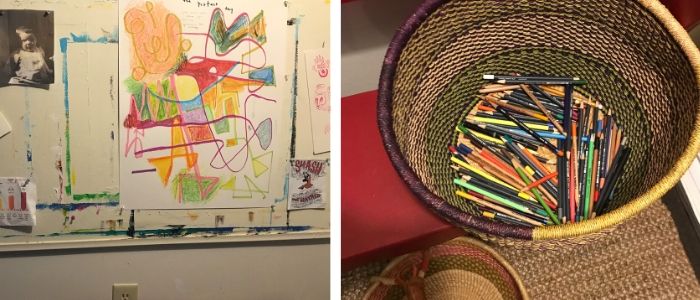 Right now I am into pencils . . . as you can see. I have made my art every day like this. It's always hanging there for me to be inspired and add something to it. I just love colors and shapes, and when I'm happy or sad or anxious I express it there too. ~ Gigi
Ordering Online in the U.S.A.
In many parts of the world right now, all but the most essential shops are closed. Depending on what's happening at the time you read this, however, you may be able to order art supplies online—including directly from us. We don't sell paint, but we do have a small stock of brushes and paper on hand. As long as we're permitted to go to the post office, we can ship these supplies within the United States.
To find our recommended brands and sources for ordering paint, brushes, and paper, see the article Paints, Paper, Brushes and Time. The article also contains tips for using these materials.
For Our Canadian Painters
Our senior facilitator Annie Rousseau is available to help those of you in Canada who need supplies. For paint, she recommends Chromatemp, which is currently available in Western Canada from Opus Art Supplies. For brushes, she likes this Royal Grip starter set.
And for as long as her post office allows, she can ship the type of paper we use in our workshops directly to you. If you're interested in this option, send a note to Annie using our online contact form and we will forward your note to her.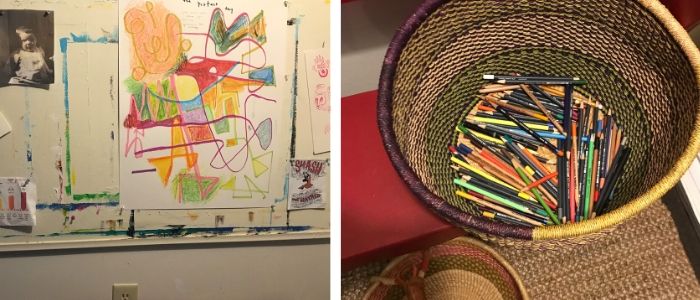 Last year, I did not have space where I lived at the time, and so painted on the refrigerator. ~ Peyton
I took over the space I had set aside as a play space for my grandchildren that they don't use anymore. I just taped up brown paper and find that tacks work better to hang the painting paper than tape. I have a table next to it to hold paints, water, and brushes. I have a storage cabinet nearby to hold the paper. That's about it. There's only two of us here and it's a pretty private space. It really is pretty simple. There's even room for the dog. ~ Terry
If you haven't already set up Zoom on your computer, you'll need to do that before your online session:
Download "Zoom Client for Meetings."
Set up a simple painting area.
Set up your computer or mobile device in the same room as your painting area so that the camera on your computer/device is facing your painting and so that you can sit comfortably in front of it for our brief intro and closing discussions.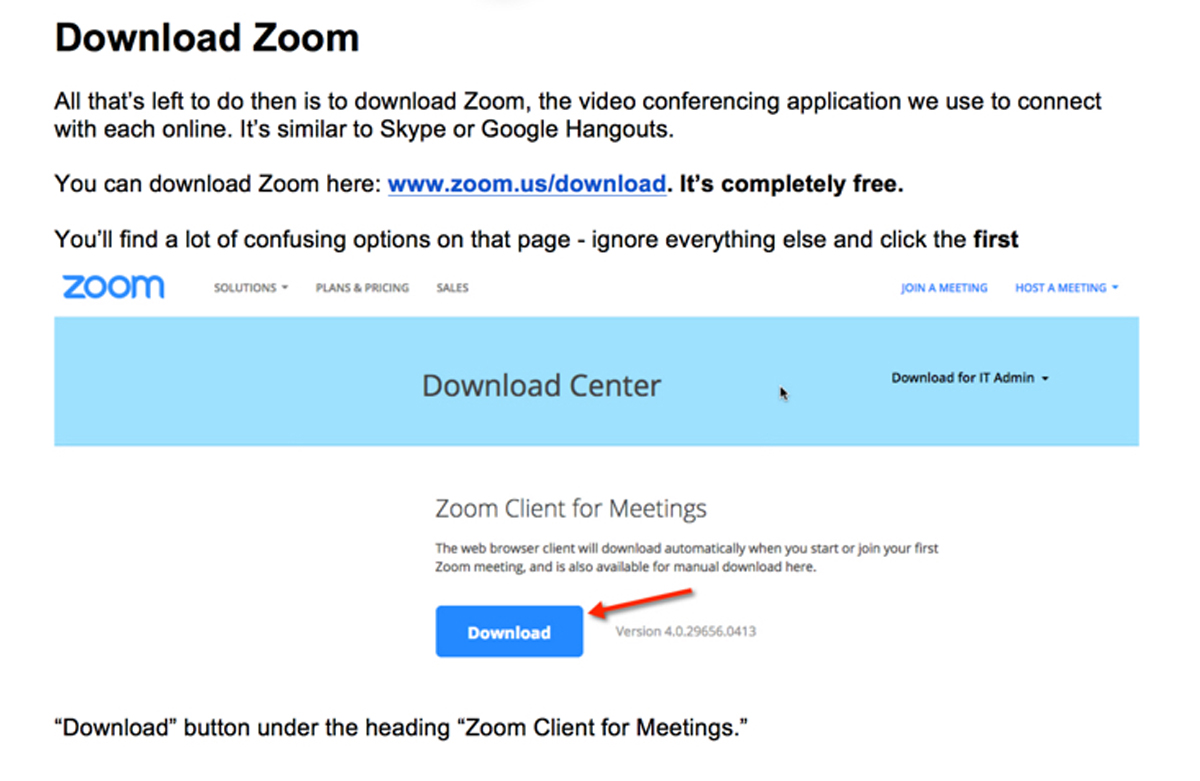 Yes, all painting sessions are recorded for educational purposes. See Terms and Conditions Privacy.

If there is an interaction during the session that you'd prefer not be be recorded, please let the host know and the recording will be paused ahead of time or later removed.
Have a Package or Discount Code Already?
Choose a session. Click on the time that appears below the date. Then click Continue.
Enter your name and email address.
Click the box that says "Have a package/discount code?
It will then say "Code or Email".
If you have a package, just enter your email address!
If you have a code, enter that.
Click "Complete".
CE Credits are available for MFT/LCSW/LPCC/LEP/RN
Per six session class package (18 credit hours)
The fee is $25 (email us when you've completed your 18 hours)
Fill out our Online Evaluation Form AFTER completing your sessions
You'll receive your Certificate of Completion within 15 days