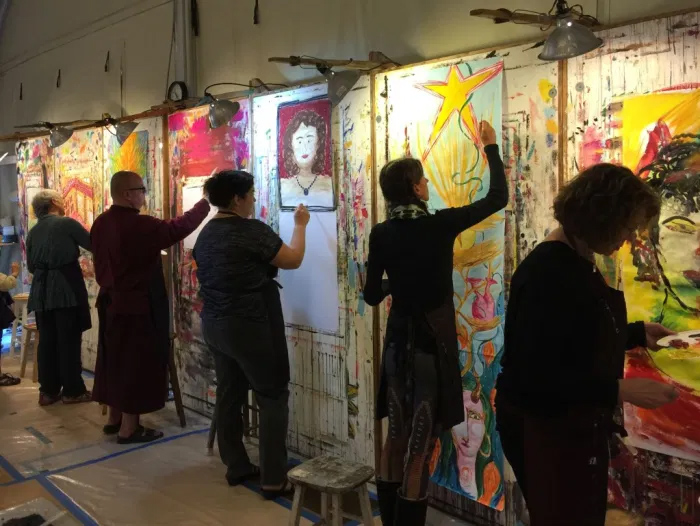 The most interesting thing to paint is what you don't know about yourself. The true meaning of the painting is beyond any story you can expect or imagine.
We are all well trained in interpretation. We read meaning into almost everything we do. We think our actions would be pointless if we didn't apply labels to them. It is a radical thing to act without interpreting, to give credence to that which is indefinable. Process painting gives us the opportunity to embrace this profound challenge!
Defining Your Experience Can Limit Your Creative Life
You may think you want to understand the messages of your paintings — for example, why certain people repeatedly appear and what they mean. You could probably come up with many plausible theories to explain what you paint. But to form conclusions about these images will draw them back into your sphere of self-knowledge. Meanwhile, the true purpose of the painting process would be lost. While you are busy defining new issues to work with, the creative force that brought forth these spontaneous images would be pushed into the background — where it usually is. Interpreting your painting stops the creative process. It switches your source of action from a total response to a little part of your mind.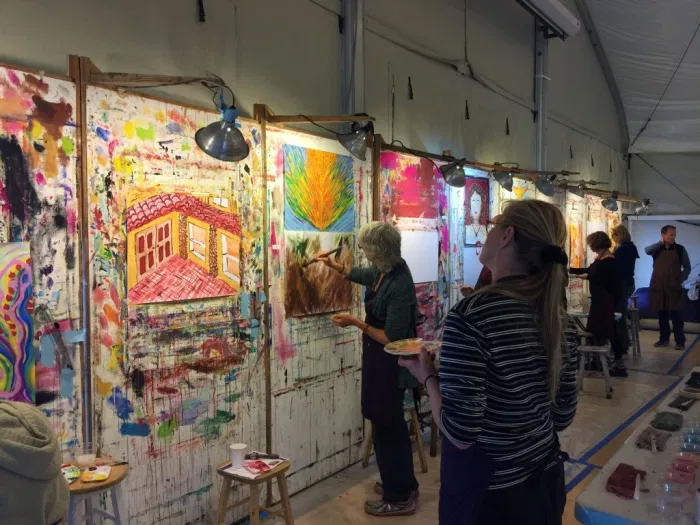 Interpretation v. Insight: What's the Difference?
To create is to allow a deeper voice within us to emerge through insight. Spontaneous expression has an expansive intelligence that is nonlinear and not logical, much like our dreams. Process painting can unclog this channel of intuitive action and allow it to operate in every aspect of our lives. Painting stimulates insight because it brings us to where we are; it keeps us in the moment, facing whatever is there. It moves us out of the claws of concepts, putting us in a place of innocence and vulnerability, a place of wonder. New understanding will always spring from not knowing. Emptying of the brain through painting creates a vacuum that attracts real spontaneous knowledge.
You may be walking down the street and be surprised by an insight about a relationship. You may notice that you are perceiving things differently and that your habitual response to familiar situations has changed. Awareness of limiting patterns often grows stronger, and with it the ability to avoid getting caught in self-defeating scenarios. These perceptions may occur while you are painting or many days later.
Insight cannot be predicted. To think you need to know what your painting means beyond what comes to you naturally is to disrespect the intuitive part of yourself. There is an order and a rightness to things as they appear, if you let them be. To be present with each new development in the painting and to experience it fully is infinitely more life-changing than any interpretation.  
Learn More
This article is adapted from the book Life, Paint and Passion: Reclaiming the Magic of Spontaneous Expression, co-authored by Stewart Cubley.
To further explore this topic and more, listen and subscribe to Stewart's series of monthly podcasts. You might begin with the episode Not Interpreting.
To find out about opportunities to participate in The Painting Experience, see our Programs.