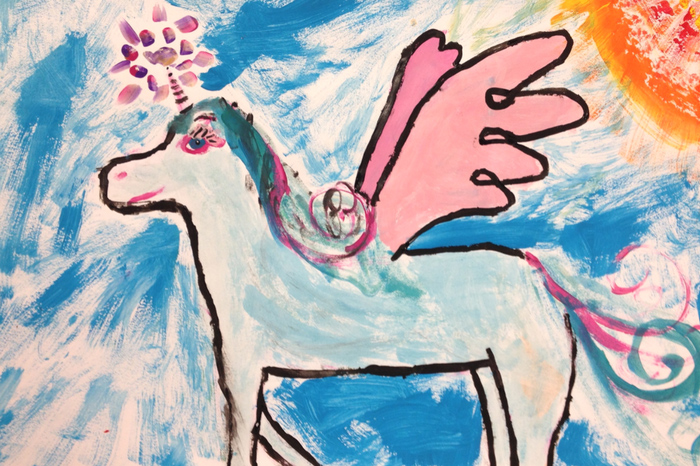 This way of painting is about taking risks, having an adventure, being free to explore and try new things.
It's an honor and a privilege for me to facilitate process painting in classrooms: To watch as a child faces the fresh white sheet of paper with a sense of excitement and suspense is to watch a mystery unfold. Which color will she start with? Where will the brush first touch the paper? Will images arrive or will this be an abstract painting? Will there be stops and starts or will the painter paint continuously, for some length of time?  And then, there's the palpable silence that ensues along with a sense of intense focus as each painter is left with his own imagination, his own journey with the paints.
Facilitating Process Painting in Schools
Over the past three years, I've brought process painting into  several fourth-grade classrooms and after-school enrichment programs. Usually, there are about 25 kids in a fourth-grade classroom. Painters have an hour with the paints and I am in each classroom four different times. I encourage teachers to participate so they can experience the process, too. It's also helpful  to have one or two parent volunteers on board to assist  with setup, changing out water, refilling paint plates, setting wet paintings somewhere to dry and to help with cleaning up.
When I work with kids in the classroom, our first painting time together begins with a short talk  about what it means to paint for process rather than painting to have a beautiful or meaningful painting. This sets the stage for the teacher and parent volunteers as well. I tell them that this way of painting is about taking risks, having an adventure, being free to explore and try new things.
I talk about the nature of creativity — how it's alive in each of us and how it doesn't worry about what things look like. Creativity doesn't worry about whether paintings are right or wrong, beautiful or ugly. Also, creativity says it's okay to not have a plan.  
The "Three Agreements" of Process Painting
Before we get started, I also ask the painters, teachers and parent volunteers to make three agreements:
We agree to paint in silence so each person can focus on her or his own way of painting.
We agree not to say anything about other people's paintings — positive or negative. Nobody's painting is compared to anyone else's.
Painters agree to check in with me when they think their painting is finished. Checking in allows me to talk to painters about their painting and to explore the painting to see if anything more might want to happen. Kids (and adults!) often think they're finished when they've run out of ideas and just need a small prompt to keep them moving. I might ask, "If you did one more thing, what would it be?" or "Did you think of something while you were painting that you haven't painted yet?"
As I walk around the room, I'm especially struck by the palpable quiet, the kids' eagerness and the way they are engrossed in their paintings. This one begins immediately, another is carefully choosing a color, some are standing, others sitting. I might notice that one boy is sitting and staring at his blank piece of paper. Perhaps I ask him, "Is there anything you'd really like to paint?" or maybe I'd tell him that he doesn't have to have a plan: He can just pick a brush and a color to start and see what happens.
I do my best to touch in briefly with every student, offering supportive, non-judgemental comments:
It looks like you had a great time with the paint!
Wow! You loved using so many colors  today!
Wasn't that a great adventure?
Were you surprised by what you painted?
Process Painting Helps Kids Thrive!
Because this intuitive way of painting focuses on the adventure and joy of creating, it removes the pressure to perform and compete. Kids relax in the safety of this environment. The silence allows painters to focus on their internal world, to listen within. In this way, children are free to take risks and try new things, exploring the paints and brushes. Painters learn to tune into their intuitive voice and trust their own way of painting. Children learn to look to themselves for what and how to paint.
For children some of the most valuable gifts of process painting are:
self-reliance
self-determination
confidence
risk taking and
the joy of expression.
These aspects of being  are critical for building fuller, richer self-expression — indeed, for building fuller, richer lives!
More Information
For a fun look at children's responses to their classroom painting sessions, see What Kids Say About Process Painting.
For an in-depth exploration of many of the topics discussed in this article, listen or subscribe to our podcast series.
To learn more about helping kids use their intuition to free their creativity, see the book Kids Play: Igniting Children's Creativity, by Michele Cassou. For more suggestions, see Books for Teaching Creativity, from The Best Children's Books. 
Aziza Balle is an affiliate with The Painting Experience and a retired elementary and high school counselor. She has been facilitating process painting with children and adults in her home studio and in elementary and high schools for the past eight years. Aziza finds process painting teaches her how to move and flow with the "isness" of her own being and watching kids paint drives this awareness home again and again. Process painting offers her a gazillion opportunities to align with a dimension of herself that is deeper than her desires for a beautiful, meaningful or extraordinary work of art. To learn more about Aziza and her work, visit her website, Paint to Discover.