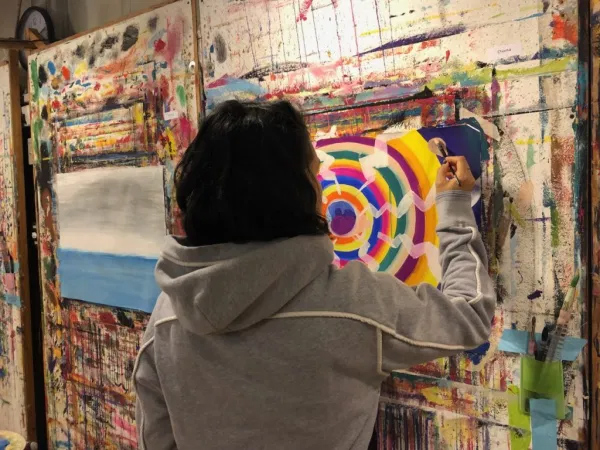 We're happy to offer the following guest post by Diana Pop, who recently attended a Painting Experience workshop at Esalen and shared this wonderful description of her time in the studio.
For the longest time, I painted all wrong.
I started pieces with specific end results in mind. I worked painstakingly to paint them exactly how I imagined, all while being haunted by perfection and rigidity.
It had to come out right!
It had to look like I wanted it to look!
And for the longest time, I had the nagging feeling that something in me wanted to burst free. An urge to explode paint on the canvas. To not care so much about the perfection of it all. To break free from my own cage.
They say, "When the student is ready, the teacher appears."
So enter a man named Stewart, who teaches process painting. Also known as (according to me) the right way to paint.
The process didn't rely on a painting technique, but on following your intuition. What brush did you feel called to use? What colors were you drawn to? What shapes? And whatever answer came, you had to trust it. If you were drawn to paint a square, then a square you paint. It didn't matter why. There was no evaluation of your work, and no care about a fixed end result.
Sounds easy enough, right?
Until your own defenses creep in and judge every choice you make. It's not that your true voice isn't there, it's that it's shut out by doubts and fears.
So what do you do in those moments?
You paint them.
You think, if I were to paint my fears, what brush would I use, what color would it have, what shape would it be?
Before you know it, you painted past the gates of your defenses, and descended into your subconscious.
This is where the magic happens.
To me, it felt like meeting myself for the first time. Or more like I always knew myself, but never gave myself permission to be all of what I found there.
I painted like I always craved to paint: with wild abandon and tuned-in consideration. Not for what the outside world considered "good", but for what I wanted to say.
My subconscious guided me with such intelligence! At first to paint frivolous shapes, that would later weave themselves into an intricate story.
The story of my life.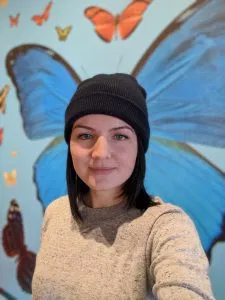 The story I tried to conform away, and fit in, in places not meant for me anyway.
The story of an artist meant to carve out her own path. To birth new ideas into the world.
The story of radical self-acceptance.
With each new painting, I started to understand.
"Oh, that's why I'm sad."
"That's why I have a hard time belonging. I've been rejecting myself, while starving for that acceptance from other people."
They weren't paintings. They were revelations. They gave me the key to my cage. And with every brush stroke into the unknown, I painted myself free.
More Information
Find more of Diana's art and writing on her website: Pop Art
Want more encouragement to courageously embrace your creative intelligence? Give a listen to Stewart's podcast episode, You Have Everything You Need.
To see our schedule of upcoming process painting workshops and retreats, check out our Programs page.