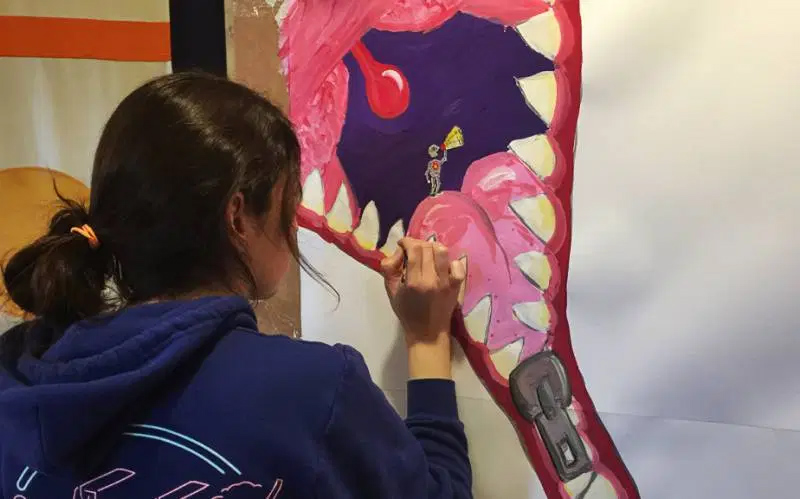 As individuals, we who are affiliated with The Painting Experience are among millions of concerned people who actively support basic freedoms and rights—for immigrants, for women, for the environment, for anyone who lacks access to the fundamental resources they need.
As an organization, The Painting Experience fosters these intentions by making a home for the generative and restorative powers of creative exploration. Because when we express ourselves authentically and hold our world with care—in an open space of curiosity and compassion—we are in the best position to meet whatever arises with clarity, vigor, and calm.
Surely, you know the life-giving power of creativity from your own experience. And now science shows that creative expression possesses uncanny abilities to help us stay focused and well. In return, it asks of us only that we give it enough time and space for true presence—in other words, that we paint, dance, cook, knit, write, doodle or noodle at least a little bit every day. According to some studies, just 45-minutes of daily creative activity is enough to make a difference in our states of physical, mental, and emotional health.
For further encouragement to engage creative self-care as a way of supporting your activism (and countering the related stress), you might make a fresh cup of coffee or tea and peruse one or more of these articles about what recent science has to say on the subject.
Creativity and Emotional Well-Being: Recent Research: To use our creativity and imagination, even in simple ways, is an affirmation of life.  
How Using Your Hands Creatively Can Reduce Stress and Anxiety: Creative hand use that focuses on process rather than result can relieve anxiety and stress.
Study Says Making Art Reduces Stress, Even If You Kind of Suck at It: Making art is actually, factually, good for the body, mind and soul. Even if said art resembles the deranged scribbles of a grumpy toddler. 
Seven Science-Backed Reasons You Should Make Art: Painting, sculpting, dancing, making music, and all the other artistic pursuits have benefits that go far beyond pure enjoyment or cultural creation — these activities can also strengthen your brain and improve your mood.
To Be Happier, Do One Small Creative Thing Every Day: Small-time creative pursuits—like cooking, knitting, or even doodling—can influence your well-being for the better.
Science Says That Making Art Is Good for Your Brain: After comparing the before-and-after tests, the team led by neurologists Anne Bolwerk and Christian Maihofner observed "a significant improvement in psychological resilience" as well increased levels of "functional connectivity" in the brain among participants of the visual art production group.
 We hope you enjoy these offerings.