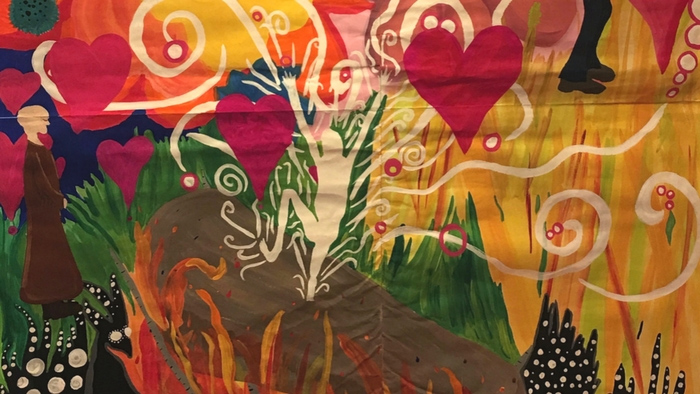 My dear old 94-year-old Dad died in late September. After the initial grief and busy-ness, including helping my 91-year-old Mom resettle, I was exhausted. I noticed my mood fluctuating between sadness and grief and feeling pretty flat. By flat, I mean not quite numb, but in a kind of re-orienting or integrating state.
Soon afterward, I joined my facilitators' group to paint together online. We had all been together for a business video call earlier that day. As we checked in before painting, they sweetly commented on how quiet I had been. Although they knew about my Dad's passing, I shared a bit more and then we began to paint.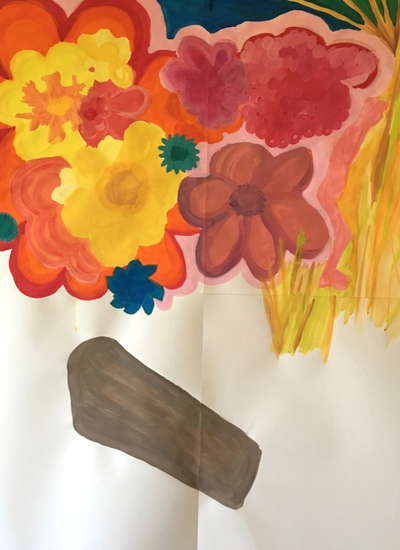 When we paint together online, it is also a video conference and so we get to see each other and our paintings. Just like in the studio at a workshop, we paint in silence and we do not comment on each others' paintings. Also, just like in the studio, we can hear the brush slosh in the rinse water, the sound of palette knives and big brushes making their marks. We can also call on each other for facilitation help if we find ourselves stuck or when we feel our painting is complete. At the end of our time, we check back in before signing off.
As I painted, something loosened. It wasn't conscious, there was no cathartic release like there can be at times when I paint. There was simply the movement of the brush and the flowing paint. "Meanings" about the painting's images flipped in and out of my mind, changing and disappearing. There was an allowing of the simple movement of the body and brush. There was a return to noticing the connection between certain colors and their relationships as they met each other on the page.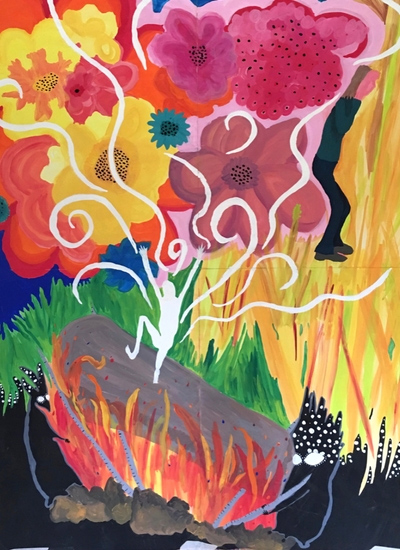 At the end of our time, when we checked in again, one of my pals commented that I seemed to have more energy. I did! It was as if a switch had flipped. I felt alive again. There was a spark. The painting experience works this way. It meets us wherever we are without needing language or meaning or any effort toward "figuring things out." It helps us simply be present with what is.
On that particular day, it brought me back to my body, to an enlivened sense during a time of big transition.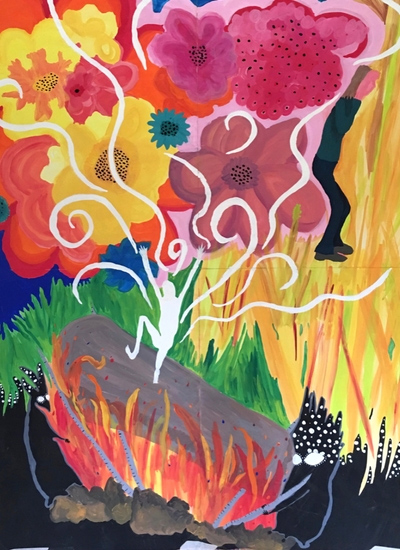 More Information
Molly Siddoway King is a Painting Experience facilitator. She's also a retired psychotherapist, teacher, and Outward Bound instructor. Molly facilitates process painting workshops in Montana, both at home in Bozeman.
To read more from Molly, see:
For Therapists: Letting Creativity Support Your Work
Five Ways Self-Compassion Supports Your Painting Practice
Three Steps to Greater Creative Self-Compassion
To find out more about connecting with other process painters online in the way that Molly describes here, see our online painting programs.
For a list of opportunities to paint with us in-person, see our schedule of process painting workshops and retreats.