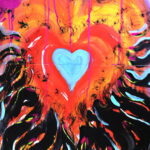 In this episode, Stewart Cubley explores the role of the creative force in our lives, and how to partner with it.
An excerpt from The Creative Force . . .
Sometimes somebody will say to me, "You know, I don't have a creative bone in my body" or "I'm just not a creative person," and it perplexes me because I don't feel like it's possible to be alive and not be engaged in the creative process. It's not an add-on that you either have or don't have. It's essential to the very way in which we live and engage our own individuality. For me, the creative process is the interface between this unique individual who is me and the world in which I find myself. I just don't see the creative process as separate from living — it is the process of living itself.

So, first, how do we experience the creative force? Then, what do we do with it? I think that the experience of the creative force in us has a quality of something that has not yet happened, of a potential that is latent, not yet manifested. That's what creativity is about, it's a sense of something that's possible. What is it to experience that in our lives? I think we all do, and yet there's an essential decision that we make about it. It's a question of whether we take it as something good or something bad, as something right or something wrong. There's a very easy road to travel down in which we take it as something wrong. This is an essential fork in the road and it's important to bring our attention to it because of the ramifications of going down that road.

If you assume there's something wrong with the experience of the creative force, that leads you into a complex labyrinth of eventualities which are very different than if you engage it as something right. Often we assume something is wrong with our experience of the creative force, because it necessarily has a certain a sense of lack — a space opened up, a sense of potential not yet manifested, not yet realized. And there's an emptiness to that, it's almost like it's a hole, and it's not comfortable. That unrealized potential is asking something of us.
Listen to learn more!