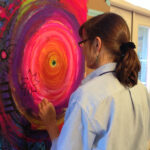 In this first episode of our podcast series, Stewart Cubley explores the foundational principle of process arts — painting for process rather than product.
An excerpt from Process vs. Product . . .
Today I'd like to talk about the essence of the painting experience, which is process — process art. This is fundamental to the experience that people have when they come to one of our workshops or classes, or work with us online. The process is the fundamental resting place, the fundamental element in the experience, rather than the product.

I know that's quite easy to say, and "process" is bandied about a lot these days in various contexts, but it's actually quite a radical stance to take: to have your experience be more important than the outcome of your experience, especially in art. There's tremendous emphasis placed upon whether it's a good painting, whether the product works, whether it's successful, whether it's beautiful, whether it's recognized, whether it's got big price tag, and so on.

The emphasis being on a product naturally places you in a position of needing to evaluate your success or lack of success based upon the result — and that inevitably involves other people's reactions. Is it deemed worthy of being viewed? Do other people see it as successful? It becomes other-directed, and then the concepts of talent, technique and training become important. You think that to get a successful product you have to acquire the tools to achieve that, and so painting becomes another skill to learn, and ultimately another commodity. That's pretty much the milieu you find yourself in when you consider painting, so it requires a radical about-face to consider doing it for an entirely different reason — to consider engaging in the mystery of the painting process purely for the serendipity and the discovery and the exploration of the experience itself rather than how it turns out.
Listen to to learn more!