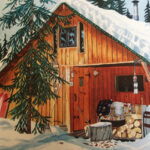 In this episode, Stewart Cubley explores the question of abstract vs. figurative painting: Is there a difference when painting for process?
An excerpt from Abstract vs. Figurative Painting . . .
In the beginning of painting for process, there's often some confusion about the traditional distinction between abstract and figurative art:

'Should I remain abstract?'

'Should I not have any recognizable features or figures in my painting?'

'Is it best to avoid anything that might lend itself to interpretation or bring about the thought process?'

'On the other hand, is it actually better to access the internal imagery that exists within the human psyche and to allow those images to take form?'

It's interesting to see how the mind wants to categorize our experience. The mind feels more comfortable after it has decided whether it's better to do abstract paintings or better to do figurative paintings — or whatever category we create. But that's irrelevant to process painting because it puts us back into our head and tries to create a value based upon whether or not something looks a certain way.

What really matters is, of course, whether what comes to you has juice. Does it have that quickening that feeling of being excited in the moment? This happens in paintings that have recognizable images and paintings that don't. It really doesn't matter. What really matters is the energy that draws you to do something.

The painting process is really a way of living the mystery. There's something very natural about not defining our experience — and therefore ourselves — by these categories. If we don't value one aspect of experience over another but instead realize we're part of a deeper mystery, we can do our job of allowing that mystery to unfold. We can recognize ourselves in that mystery as opposed to being defined by particular form.
Listen to learn more!