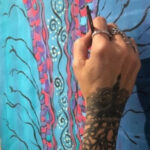 The painting process asks something big of everyone who comes to it: Can you dare to respect your own expression? In this talk recorded live at a recent workshop, Stewart Cubley gently challenges us to open to our own images, colors, and forms.
An excerpt from The Big Ask . . .
To dare to begin to respect your own expression, your own imagery, your own forms, your own colors, what shows up — to begin to dare to actually have a quality of ease around that, where you're not so judgmental and trying to make it right — that's a big ask, but that's our purpose here. To nudge that, to give a little space for that to flower. And it will. It can and it will. If you keep coming in here and you put your two feet in front of that piece of paper and you hang in, it's going to happen. The magic happens. It's not like it's some formula where everyone is at the same place at the end of the workshop. That's not the case, but something relevant, significant and meaningful will most likely take place for you, if you hang in there. And it doesn't mean it's going to be without struggle. There will be struggle. We need struggle as part of this process.

Our function as facilitators is to create a space, first of all, for that to happen and, secondly, to be present with you in it. We are not authorities. We don't know what you should do from moment to moment. We're not going to pretend that we somehow know something that we don't, but we can be present with you and we have questions that can often open doors. Being witnessed in your own unfolding in this process opens doors on its own. Things happen from that. So that's what we're doing here. It's very exciting. There are a lot of feelings in this room right now. You're wondering, "They're not going to make me paint this morning, are they? We're actually going to have to get started?" Yes, we are!
Listen to learn more!